CECAFA Club Cup
Gor Mahia coach Dylan Kerr upbeat ahead of a do-or-die Cecafa clash against AS Du Port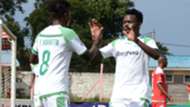 Gor Mahia will play Djibouti side AS Du Port on Thursday in a must-win match if they are to progress to the next round of the Cecafa Kagame Cup.
The Kenyan champions have managed to record an identical 2-2 draws in their last two games against; against Rwandan side Rayon Sports and Lydia Ludic from Burundi respectively.
Coach Dylan Kerr said he will be going for maximum points in the last Group C match.
"We 'did not play' our last game due to several factors that affected us negatively. Right now, we are in a better state of mind and our main aim is a win, three points is what we are going for and I am sure if we give our best we will get them.
"Everyone is fit and ready to play, we all know it is a must-win game and a hundred per cent is what we want to give."
Gor Mahia players reportedly played their last match under protest after their allowances were delayed.
But according to information trickling down from Tanzania is that the management has sorted out the matter with the players.