Transfers
From wind-ups and a drug ban to World Cup hopeful - Who is Manchester City target Fred?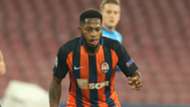 'You're in the Brazil squad' shrieked a voice down the phone. Fred took it as a wind-up. A pretty cruel one, too.
His agent didn't know anything about a Brazil call up that September afternoon. And his agent was right there next to him in the car. His agent was also 93-time Selecao international Gilberto Silva.
The height of Fred's international achievements to that point had been getting booed by a Sao Paulo crowd who mistook him for the hapless striker and villain of World Cup 2014, and his club refusing to release him for a historic Olympic Games in his homeland. Oh, and a doping ban.
But it wasn't a joke. Tite had indeed included the Shakhtar Donetsk midfielder in his Brazil squad for October's World Cup qualifiers versus Bolivia and Chile. Fred wouldn't see a minute of action but, for the first time since a lengthy ban after testing positive for hydrochlorothiazide during Brazil's disastrous Copa America 2015 campaign, he was back on the international radar.
It was quite a turnaround. And this month he's on Pep Guardiola's radar, too, with Manchester City ready to splash out as much as £40 million to make Fred another high-profile Premier League import.
"England is the most competitive league in the world," he told Globo. "A great coach like Guardiola and a great team like City… I would develop a lot with them." Fred's had his fair share of developing to do in the past couple of years. "It's difficult to understand what happened. But [the ban] has passed and you just have to grow during times like those."
Fred has grown on the pitch, too, starring in a more liberal midfield role handed to him by Portuguese coach Paulo Fonseca. 
After a breakthrough debut season in Brazilian football with Internacional as a pacey, attacking midfielder, the teenager was handed a holding role in Ukraine following his €15 million switch to Shakhtar in 2013.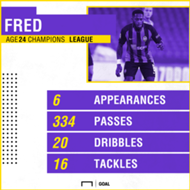 Fonseca, however, has lessened the shackles. Fred is still charged with recovering possession and stamping out counter-attacks but his technical qualities are now clearer to see under the Portuguese, with his power and dynamism now utilised to launch his side forward in transitions.
The 24-year-old has re-emerged as one of Europe's most in-demand all-action midfielders and it's his diverse range of attributes that has likely attracted Guardiola's attention, particularly evident in the Champions League. Fred leads his Shakhtar colleagues in tackles (2.7 per game), passes (55) and dribbles (3.3) in Europe's flagship club competition.
Fred's Ukraine adventure began when he was drafted in as a direct replacement for his once just-as-multifaceted compatriot, Fernandinho, and those roles could now be reversed as Pep prepares a contingency for latter, now 32. "It would be a dream to follow Fernandinho's footsteps, because he is my role model," Fred said in 2016.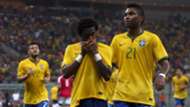 By the end of this month, it could well be a reality, and one that could yet book Fred a ticket back to Eastern Europe this June – a significant motivation for him to make the move sooner rather than later. "The Ukrainian league doesn't get a lot of coverage," he told Estadao in October. "Everybody wants to be in the World Cup… I need to show what I can do on the field."
With two reserve slots for central midfielders yet to be claimed in Tite's Brazil squad, Fred will believe his chances would improve if that field was in Manchester rather than Kharkiv. 
It's been long and bumpy road, but he is back on track. And when Tite sits down to announce the 23 that will lead Brazil in Russia this June, Fred will unlikely find himself in a position to fear another wind-up.