Premier League
From 'no hoper' to man of hope - Marco Silva's remarkable Hull turnaround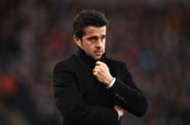 The man tasked with performing the miracle Hull City require to avoid relegation from the Premier League takes his Tigers to the Emirates Stadium on Sunday bolstered by the fact that they have taken seven points from the 12 available to them in matches against Bournemouth, Chelsea, Manchester United and Liverpool.
Marco Silva has overseen a run of league form to rival Manchester City's over the past four games while his total of two wins, a draw and a defeat eclipses the recent form shown by Sunday's wearied opponents Arsenal as well as Liverpool and Manchester United.
Silva targets another Arsenal win
Hull were odds-on to be relegated when Mike Phelan was sacked in January. He took a total of seven points from the 18 games which preceded Silva's appointment. Even then the Portuguese was seen as a fall-guy, described in various capacities online as "cheap", "half-baked", "Johnny Foreigner", "no hoper" and an "unknown journeyman".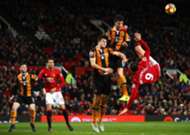 Silva was off the radar of everyday watchers of English football who might not necessarily have been expected to know of his experiences elsewhere. A little research would have revealed the workings of a "meticulous" coach, as Silva was described by Hull midfielder Tom Huddlestone this week, who earned respect and silverware in his native Portugal before success in Greece.
He has experience of working at some of Europe's biggest clubs – Olympiakos and Sporting CP – where he was sacked following Portuguese Cup success in 2015 for reportedly not wearing the official club suit in an earlier round. He got the Sporting job based on his work at lowly Estoril – the club he promoted from the second division to the top flight and led to a fourth-place finish in 2014.
However, as he had not worked since last summer there was a feeling that Hull settled on a coach who was ready to accept the privilege – and pay – of the Premier League without really being possessed of the capacities to keep the club there. Hull were going down; it didn't really matter who stood on the sidelines and Silva knew it. An initial six-month contract negotiated with the Allam ruling family seemed to confirm this notion.
Liverpool slump to Hull City defeat
Not so. Silva has immediately set about silencing the doubters and has made survival a realistic hope for the once-hopeless Hull. They are 18th – one point from safety – and that is after playing three of the top six Premier League teams in the first four games under a new manager. Silva oversaw Hull's first win over Manchester United in some 43 years – albeit in the League Cup – before holding the 20-time champions scoreless last week in the league.
Jurgen Klopp's Liverpool simply could not unlock the Hull code last weekend with disciplined defending and laser-precision counterattacks giving Hull the foundations for the 2-0 win. Crucially there was also a 3-1 win over relegation rivals Bournemouth in Silva's first game in charge; the kind of result Hull must replicate against Burnley, Leicester and Swansea in the three matches following Arsenal.
Moreover, he's had to do it without Jake Livermore and Robert Snodgrass – both acknowledged to be among Hull's best players but ultimately sold on in January. In their place came a mixed bag of loan and permanent signings, with some astute ones among the assortment. Polish international winger Kamil Grosicki, Liverpool's Lazar Markovic and the Italy defender Andrea Ranocchia all possess the pedigree to play in this league and will be vital. Ranocchia in particular has started well, forming a partnership with the renascent Harry Maguire at central defence on a half-hour's notice last week.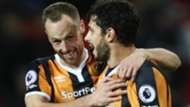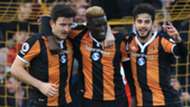 Silva has also overhauled the club's technical staff with assistant Joao Pedro Sousa, first-team coach Goncalo Pedro and goalkeeping coach Hugo Oliveira signing on. Word this week got out about the tweaks Silva has been making around the club, such as banning sweet desserts in the canteen and assembling the match-day squad for a pre-match meal ahead of home games before the coach takes the players to the stadium. Previously players made their own way to the ground. Video analysis has also been made a priority, according to reports in the Hull Daily Mail.
Wenger: My future is not at stake
Silva has been spotted pulling and dragging his defenders into position at the club's Cottingham training base and it is clear that organisation and team shape are priority as Hull seek to avoid the drop. Their defence has tightened notably in Silva's time in charge – a meaningless 4-1 drubbing away at Fulham in the FA Cup aside – with clean sheets posted in the league against Jose Mourinho's side as well as Liverpool. He has assembled a run of four consecutive wins at Hull's KCom Stadium – a ground that could barely attract the punters during the dog days of Phelan's reign.
Fan dissatisfaction towards the Allams has not disappeared overnight but what Silva has brought is optimism and hope. That is exactly why no one is calling Marco Silva a "no hoper" now.
Arsenal's 2-3 defeat at home to Olympiakos in the Champions League group stages during the 2015-16 season is well remembered for the clanger dropped by replacement goalkeeper David Ospina – an error which ultimately handed the victory to the Greeks. However, that match deserves to be scrutinised from the Olympiakos side, too. It was their first win on British soil in European competition. At home they were amassing a run of 17 consecutive Superleague victories – a European record. Their coach? Marco Silva.