Orlando Pirates
Former Orlando Pirates midfielder Thandani Ntshumayelo could be rejected by clubs after completing ban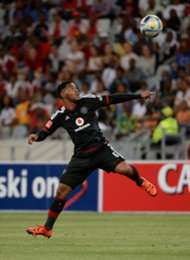 Former Orlando Pirates central midfielder Thandani Ntshumayelo reportedly doesn't think there will be any club interested in him once his four-year ban from football ends.
The midfield maestro was banned from football for four years after testing positive for cocaine in 2016.
An SA Institute for Drug Free Sport (SAIDS) statement revealed that Ntshumayelo "confessed evidence that he did take three lines of cocaine at a party and that he was influenced by friends to take cocaine and as a result committed a mistake".
This was Pirates' 1-1 draw with Platinum Stars in a Premier Soccer League (PSL) which was played at the Royal Bafokeng Stadium in January 2016. Pirates subsequently decided to terminate Ntshumayelo's contract after he was handed a four-year ban by the SAIDS in August 2016.
According to The Citizen source close to Ntshumayelo, the player feels that he will struggle to find a club after completing his ban.
"The major thing here is that Bibo (as Ntshumayelo is affectionately known) is already 28-years old now and has been out of football for a while," the source said.
Bibo is expected to complete his ban in 2020 at the age of 30. 
"So, he is honest with himself in terms of looking at his age, and that is why he has been busy concentrating on making a living from something that is outside football," the source added.
"He knows what he did was a mistake and has learned a lot from it, and in terms playing professional football again, he is doubtful about it," the source concluded.
Ntshumayelo, who is a former South Africa youth international, joined the Buccaneers from SuperSport United midway through the 2011/12 campaign.
The Heilbron-born player helped the Soweto giants win the 2011/12 PSL title and 2013/14 Nedbank Cup.
He started 104 competitive games for Bucs - netting five times in the process.