River Plate
FKF Shield Cup: Ulinzi Stars storm semis with win over Riverplate FC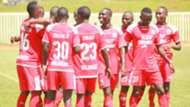 Ulinzi Stars booked a place in the FKS Shield semi-finals following a 4-1 victory over Riverplate on Saturday.
The Soldiers made it two wins in two games after flooring the lower division side in the quarter-final tie staged at the Bukhungu Stadium.
Ulinzi survived an ambush by Riverplate when Bernard Luchendo hits the crossbar. Omar Boraafya was denied by the home keeper after he directed Harun Mwale's corner on target, but the post did the defending for Riverplate.
Riverplate found themselves trailing with Ulinzi Stars 2-0 up at the break after Enosh Ochieng and Ibrahim Shambi hit the back of the net within a span of two minutes.
Boraafya then set Daniel Waweru, who connected the ball into the net in the 57h minute. Provider Mwanzia completed the job with a fourth goal at the stroke of the hour to hand Ulinzi Stars a triumphant victory.
Kennedy Wandiri pulled one back for the hosts but his effort came a little bit too late to change the scoreline.