KPL
FKF convene meeting with all KPL chairmen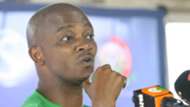 Football Kenya Federation (FKF) has invited Kenyan Premier League (KPL) chairmen for an urgent consultative meeting at the Kasarani Stadium VIP Lounge, beginning 10am, tomorrow, Saturday, February 11, 2017.
KPL postpones 2017 league kick-off
According to a letter obtained by Goal from the federation, the move has been necessitated by the two failed JEC meetings, with KPL stating that they have been unable to attend the same due to one of their members being indisposed, this despite the KPL/FKF MOU clearly stipulating that two members from each side can form a quorum and deliberate on emerging issues.
In light of the aforementioned, FKF President Nick Mwendwa in consultation with the FKF NEC members has resolved to meet all 2017 KPL chairmen, in a bid to amicably resolve the top tier league's composition, brought about by the failure, of both Sofapaka FC and Muhoroni Youth FC to meet the 2017 Club Licensing Criteria, which subsequently led to the two being disqualified from the KPL and as a result being relegated to the second tier league.
CARTOON: FKF and KPL go to war over league
KPL has since postponed the league kick-off citing need to pave way for a meeting scheduled between them (JEC members) and FKF's representatives on Monday.