Saudi Arabia
FIFA Rankings - Saudi Arabia climb five places, UAE and Qatar drop down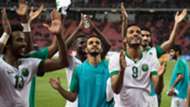 The AFC World Cup qualifying campaign has had an impact on the latest FIFA rankings. Saudi Arabia, who have enjoyed a 3-0 away win in Thailand and a 1-0 win over Iraq at home in March have seen their ranking soar by five places.
The Green Falcons have scored 646 points in the process and have climbed from 57th to 52nd in the rankings.
Meanwhile, UAE and Qatar have gone in the opposite direction.
Two 2-0 defeats to Japan and then Australia not only left their 2018 World Cup hopes in tatters and saw the resignation of head coach Mahdi Ali but also resulted in a six-place drop from 68th to 74th in the rankings.
They registered just 453 points, a 68-point drop from the previous month.
Qatar's own 46-point drop saw them go from 84th to 89th after back-to-back 1-0 defeats against Iran and Uzbekistan.
Amongst the teams from the Asian Football Confederation (AFC), Saudi have risen to 5th amongst 46 teams, with Iran, ranked 28th internationally, leading the way. UAE are now 7th in Asia and Qatar 10th.
Brazil have overtaken Argentina and now lead the international standings followed by Germany, Chile and Colombia.