Manchester United
Ferdinand: Man Utd's 2008 Champions League winners better than this Man City team!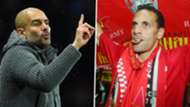 Rio Ferdinand believes Manchester United's 2008 side are the best Premier League team ever.
Sir Alex Ferguson's team from 10 years ago, that possessed the likes of Ferdinand, Nemanja Vidic, Cristiano Ronaldo and Paul Scholes beat Chelsea to win the Champions League in Moscow that season.
They were also crowned Premier League winners, and would go on to win it again a year later, and would also claim the Club World Cup in December 2008.
Ferdinand made 51 appearances in all competitions for the Red Devils in 2007-08, forming a formidable partnership at centre-back alongside former Serbia international Vidic.
And he feels that team is the best in Premier League history, claiming that they were better than Pep Guardiola's current Manchester City side that accumulated 100 points last season as they won the title with ease.
When asked opinion on the greatest Premier League side ever, Ferdinand told BT Sport: "The 2008 Man United team. Won in Moscow, back-to-back finals in the Champions League. Four [sic] Premier League titles on the bounce. Talk to me!"
City have undoubtedly made a case to be considered as of one of the best ever in the Premier League era, sweeping to the title last season with a gap of 19 points ahead of second-placed Manchester United.
They achieved the highest points tally ever in that incredible campaign, while they also set the record for most wins (32), most goals (106) and biggest goal difference (plus 79).
And they've continued in a similarly impressive fashion in 2018-19, leading the way at the top of the standings, albeit with Liverpool having the chance to go above them, and scoring 45 league goals already.
Ferdinand may not believe they are the best side in English top-flight history but he has acknowledged their quality and believes they are the most entertaining team to watch.
He added: "They're the most entertaining team we've ever seen in the Premier League era. They're the best team to watch, they play the best football. They're unbelievable.
"Tactically I think they're the most astute, they're the most fine-tuned team we've seen. They'd give any team in the Premier League era a run for their money."
Next up for City is an away fixture against Chelsea on Saturday, while United host Fulham as they look to end a run of four league games without a win.