NPFL
FC Ifeanyi Ubah's Wasiu Jimoh gutted by NPFL shift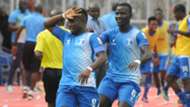 FC Ifeanyi Ubah' s Wasiu Jimoh has stated that he was gutted by the report of the Nigeria Professional Football League postponement.
The League Management Company and the Club Owners Association on Monday jointly in press statements confirmed that the supposed July 18 league resumption has been put on hold because of the prevailing adverse circumstances in the administration of football in Nigeria.
Jimoh who expressed his regrets at the current NFF crisis pointed out that his other colleagues thought the impasse won't disrupt the league season as it is their desire to see it out and focus their energies on something else.
"It is so unfortunate that the league season has been interrupted again despite our desire to see to it that it ends as soon as possible," Jimoh told Goal.
"We know that violence breeds violence and the current problem to our football won't be of any good to us all. We must try to solve whatever that is the cause of this problem to our football. I want to appeal to our football administrators to put the interest of footballers over their own.
"We were hoping that the league season would continue and that we will play the remaining 14 matches that will allow us to think of what is next of our career. It is so unfortunate that this has to happen at this point in time. I am appealing that all crisis talk should stop for the interest of our football.
"We do not have anything that unites us together to become one in the country other than football. We should not play politics with the future of our youths. I am begging that we find a solution to it immediately."