Italy
Fabio Cannavaro reveals the only striker he feared playing against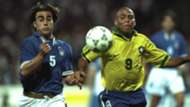 Former Ballon d'Or winner Fabio Cannavaro has revealed that Ronaldo was the only striker he feared during his playing career.
The ex-Italy captain, who was named the world's best player after leading his country to World Cup glory in 2006, spent 18 years in Serie A and La Liga.
Are Madrid's fans the worst in the world?
Cannavaro won 136 caps for the Azzurri and is considered one of the greatest centre-backs of all time despite standing under 5' 10" tall, but there is one forward who challenged even his fearlessness.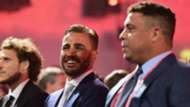 Ronaldo was briefly Cannavaro's team-mate at Real Madrid, but they also faced each other on multiple occasions in Serie A and international competition.
And the 43-year-old, who is now the coach of Tianjin Quanjian in the Chinese Super League, says he considers the Brazilian to be the greatest player of his era.
"Ronaldo was always, always, the one player who stirred fear in me," Cannavaro said according to the official Champions League website.
"He is the player of our generation. The phenomenon."
Both Ronaldo and Cannavaro share the quirk of being World Cup-winning Silver Ball recipients, with the Golden Ball - awarded to the best player of the tournament - going to a player they had defeated in the final.
Ozil: Mourinho called me a crybaby!
Oliver Kahn won it in 2002 despite being beaten by two Ronaldo goals in the decisive match before Zinedine Zidane claimed it four years later after being sent off in France's loss on penalties to Italy.
Ronaldo did, however, win the main award back in 1998 as a losing finalist himself, with his infamous illness on the eve of Brazil's final against France seemingly affecting his performance in a 3-0 defeat.