Selangor v Pahang
FA Cup final: FMLLP's Kevin Ramalingam expects at least 40,000 to attend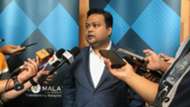 ---
BY        ZULHILMI ZAINAL       Follow on Twitter
---
Before the FA Cup final pre-match press conference was held at the Bukit Jalil National Stadium on Friday, competitions organiser Football Malaysia LLP (FMLLP) chief executive Kevin Ramalingam took the chance to address questions posed by the media.
Chief of their concern; reports of slow sale of the tickets to the match set to take place on Saturday between Selangor and Pahang; two state teams which usually can be counted on to bring massive fan support along with them to cup semi-final and final matches.
According to him, the main reason behind this drop in ticket sales is the fact that many fans have prioritised their spendings on the Islamic celebration of Aidilfitri, which had begun on June 14, over the cup final ticket.
"We've gone down (to the ground level) and found out what's going on; there are reports that most Malaysians have received their June salaries around the 10th or 12th of June, ahead of the Aidilfitri celebration period. That means not many got paid at the end of June, and their next paycheck will only come at the end of July. 
"We have to be realistic, we can't be critical of the fans. These things do happen, but that does not for a moment mean that people don't want to watch football. This year, we have the largest number we have ever had of television viewership on all platforms. The fans have options now; they can stream live Malaysian matches and the replays online, legally. These will always have an impact initially, but they will be overcome over time. We cannot make kneejerk decisions," he explained.
But when suggested by Goal that the RM50 price for adult admission was too high, given the current situation, Kevin disagreed:
"Actually, the smallest amount (for watching a final match at the stadium) is for the ticket. Imagine the fans coming from Pahang; the total should be around RM200 per head, and only RM50 is for the match ticket. And on Shoppee (online ticket retailer and title sponsor), it's only sold for RM42. Subsidies can only do so much.
"Having said that, after Pahang returned around half of their ticket allocation to us, our staff members have been selling those tickets to Pahang fans who are based in the Klang Valley, at the stadium until tomorrow (Saturday) afternoon. We want to leave the door open to them for as long as possible," he remarked.
And he ended his comment with his estimation of the attendance on Saturday, at the venue that can fit around 87,000 fans at the same time;
"I still fully expect an attendance of upwards of 40,000 tomorrow. So it's not a small figure, it will still be a big event. We've always been spoilt in that sense; that under normal circumstances, we would get 80,000 fans (in cup finals)."
The #ShopeePialaFA final tomorrow will feature a piece of 360° technology! Let's see if we can get more details on this...
🤖🤖 pic.twitter.com/cEJsAxyGyE

— Goal Malaysia (@Goal_MY) July 6, 2018
Here's the explanation! https://t.co/LTpwcBFJVO

— Goal Malaysia (@Goal_MY) July 6, 2018
Also check out Goal Malaysia's new Instagram account!