Australia
'Extremely special' - Milligan delighted at Australia's World Cup qualification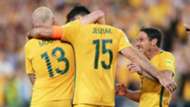 Australian midfielder Mark Milligan has declared qualification for a fourth consecutive World Cup as 'extremely special' after a 3-1 win over Honduras on Wednesday night.
A hat-trick from captain Mile Jedinak in front of 77,060 fans at Stadium Australia was enough to see the Socceroos through, but it was not as straightforward as the score-line suggests.
Germany & Brazil joint World Cup favs
A 0-0 first leg in front of a hostile Honduras crowd last Saturday put the pressure on the Australians, and it was a nervy first half as they probed the opposition defence to find the breakthrough.
However, Jedinak sealed the deal for the Australians with his second-half treble, with a last-gasp goal providing Honduras with scant consolation.
The midfield was bossed by a two-pronged Australian base of Jedinak and Milligan, who said that a place in the finals in Russia was a just reward for the Socceroos' hard work after they missed out on automatic qualification.
"I think this group has gone through a lot with the way we want to play, to not qualifying automatically, to these play-offs and some tough matches against Syria," said Milligan.
"A lot of talk leading into this, make no mistake, this group deserves everything they get."
Qualification will hand Milligan and the ageless Tim Cahill the opportunity to appear at their fourth consecutive World Cup and feature among a select group of players who have done the same - but the Melbourne Victory midfielder was quick to play down his chances.
"Ten months in football is a long time and, honestly, I just want to enjoy this moment with this team," said Milligan.
"We've worked very hard for what we've achieved over the years, not just this, everything we've achieved.
"We'll just see what happens tomorrow, mate."