South Africa U20
EXTRA TIME: Watch the Caf Under-20 Africa Cup draw and Amajita's trophies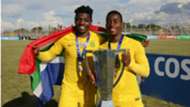 Soon after the Africa Women's Cup of Nations, there was the U20 Cosafa Cup. Now we look forward to the U20 Afcon.
South Africa finished runners-up in the ladies' Afcon and then won the Cosafa Cup (for both the teenagers and the ladies). 
There's a number of Twitter posts showcasing Amajita posing with individual trophies won at the tournament.
You can also enjoy this live draw video, where Caf reveals the full entertainment and presentation alongside the naming of South Africa's group for the U20 Afcon.
Amajita were placed in Group A with Niger, Nigeria and Burundi. Group B consists of Ghana, Burkina Faso, Senegal and Mali. 
The top four teams at the tournament will automatically qualify for the 2019 Fifa U20 World Cup in Poland. 
WATCH LIVE .. Total AFCON U20 Draw ceremony https://t.co/q6aBJtlzph

— CAF (@CAF_Online) December 13, 2018
AMAJITA'S WAR CRY: #COSAFAU20 defending champions heading out for their warm-up session ahead of their today's COSAFA final against neighbour's Zimbabwe at Nkana Stadium. Kick-off is at 15h30. pic.twitter.com/4aUiFkQBnt

— SAFA.net (@SAFA_net) December 13, 2018
Congratulations coach @ThaboSenong, technical staff and players for defending your title  @SAFA_net @BurgerKing #Amajita #champions pic.twitter.com/81dtO8tLJU

— Minky Tshabalala (@MinkyTshabalala) December 13, 2018
Promise Mkhuma crowned this year's #COSAFAU20 Player of the Tournament. He played in all of Amajita's matches in this year's edition. @BurgerKingZA @COSAFAMEDIA #COSAFAU20 #Amajita pic.twitter.com/QaqmeUUWM7

— SAFA.net (@SAFA_net) December 13, 2018
Promise Mkhuma crowned this year's #COSAFAU20 Player of the Tournament. He played in all of Amajita's matches in this year's edition. @BurgerKingZA @COSAFAMEDIA #COSAFAU20 #Amajita pic.twitter.com/QaqmeUUWM7

— SAFA.net (@SAFA_net) December 13, 2018
South Africa defend their #COSAFAU20 title after beating Zimbabwe 4-3 on penalties. Keenan Abrahams scored the deciding penalty.
Zimbabwe :
South Africa :@BurgerKingZA @COSAFAMEDIA #COSAFAU20 #Amajita

— SAFA.net (@SAFA_net) December 13, 2018
Shout out to Amajita for defending their Cosafa crown

— Tshepang Mailwane (@T_Mailwane) December 13, 2018
Lyle Foster is this year's #COSAFAU20 joint top goalscorer with the five goals he scored in this tournament. @BurgerKingZA @COSAFAMEDIA #COSAFAU20 #Amajita pic.twitter.com/QMsxGAk1kU

— SAFA.net (@SAFA_net) December 13, 2018