Women's World Cup
EXTRA TIME: Watch Banyana inspect World Cup venue and training field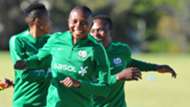 Banyana Banyana lost to Nigeria in the Africa Women's Cup of Nations final in a penalty shootout a week ago.
Then on Saturday, they witnessed the World Cup draw, where they were placed with Germany, Spain and China in Group B.
We can have an early look at Stade Oceane where South Africa takes on Spain in their first match on June 8 next year.
In the same town, Le Havre you can see Banyana coach Desiree Ellis inspecting the Parc Des Loisirs training facility. She looks like she can't wait for the tournament to start.
Work continues long after the 2019 @FIFAWWC draw in France. This is Stade Océane in Le Havre where @Banyana_Banyana will play their opening match of the tournament against Spain on 8 June @SAFA_net @SasolLeague @SasolSA #limitless #DareToShine pic.twitter.com/FgZgy8yLCQ

— Banyana_Banyana (@Banyana_Banyana) December 10, 2018
. @Banyana_Banyana head coach Desiree Ellis inspecting Parc Des Loisirs, which will be the training field in Le Havre. This training field was used by Croatia for EURO 2016 @SAFA_net @SasolLeague @SasolSA @FIFAWWC #limitless #DareToShine pic.twitter.com/vEzJjFkQVM

— Banyana_Banyana (@Banyana_Banyana) December 10, 2018
Stade Oceané in Le Havre, The venue for @Banyana_Banyana 1st match in the 2019 @FIFAWWC vs Spain @SAFA_net @SasolLeague @SasolLeague @SasolSA #limitless #DareToShine pic.twitter.com/rp73Zmd4pJ

— Banyana_Banyana (@Banyana_Banyana) December 10, 2018
Visiting our hotel in Deauville and its freezing pic.twitter.com/yxMpQAsOSG

— Desiree Ellis (@descaptain) December 10, 2018