South Africa U20
EXTRA TIME: Watch Amajita regenerating ahead of Cosafa Cup final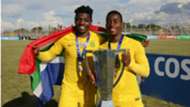 This comes after Zimbabwe subjected hosts Zambia to a 2-1 defeat on Tuesday, following Amajita's 1-0 win over fellow semi-finalists Angola at Nkana Stadium in Kitwe, Zambia.
That Cosafa final match will kick-off at 15h30 at Nkana Stadium on Thursday, 13 December.
The Cosafa defending champions have scored 10 goals in their last three matches, and are yet to concede a goal in this year's tournament.
You can watch Amajita in training below, and also see some photos from their progress so far.
Defending champions Amajita having a regeneration session following their 1-0 #COSAFAU20 semi-final win against Angola on Tuesday. They will now face Zimbabwe in final tomorrow at Nkana Stadium. Kick-off is at 15h30. pic.twitter.com/mNkPfJW8op

— SAFA.net (@SAFA_net) December 12, 2018
South Africa 🇿🇦 1-0 🇦🇴 Angola (Foster 26'): Amajita defeated Angola 1-0 in the semifinal of the COSAFA Under-20 Championships at Nkana Stadium in Kitwe, Zambia, on Tuesday. #DiskiFans pic.twitter.com/xYcS8buR0X

— DISKIFANS (@diskifans) December 12, 2018
South Africa progress to this year's #COSAFAU20 final after beating Angola 1-0 at Nkana Stadium. @@BurgerKing @COSAFAMEDIA #Amajita pic.twitter.com/eCQ3zFGVqK

— SAFA.net (@SAFA_net) December 11, 2018
Nkosingiphile Ngcobo is the man of the match following his superb performance against Angola for South Africa. @@BurgerKing @COSAFAMEDIA #COSAFAU20 #Amajita pic.twitter.com/w0tpkmMZNi

— SAFA.net (@SAFA_net) December 11, 2018
WELL DONE

Congratulations to Amajita, who are in the #CosafaCup final after beating Angola 1-0 today. Lyle Foster scored the all-important goal.

Final is on Thursday and they'll face either Zambia or Zimbabwe. #FARPost pic.twitter.com/Afs4VVrxI7

— FARPost (@FarPostSA) December 11, 2018