World Cup
EXTRA TIME: South Africa defends Messi after Argentina horror show against Croatia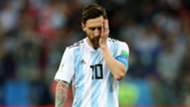 This means that Argentina's destiny is no longer in their hands, with them having one eye on the game between Nigeria and Iceland on Friday.
South African players, the media and fans pointed out that blame should be placed on Argentina as a team, and not on Messi to do it all by himself.
What did you think of Croatia's superb performance? Check out all the responses below.
#ARG  #CRO

Who will come out tops?

Messi  Modrić  #WorldCup pic.twitter.com/gpaw1dl8mS

— Thandi Merafe (@thandi_399) June 21, 2018
Too easy  kante where's Messi?? #ARGCRO Ronaldo just invited me for a braai 

— Thabiso semenya (@Touch26semenya) June 21, 2018
These commentators  #WorldCup2018

— Nazier 17 (@NazierJacobs17) June 20, 2018
Not his #WorldCup18 ,it happens to the best  you remain a G.O.A.T mate  pic.twitter.com/xYu0n8g8GE

— IIKHUNE3216 (@IIKHUNE_32_16) June 21, 2018
All the people defending #messi .

— Bradley Grobler (@Bradley_Grobler) June 22, 2018
Think the laughing emojis said it all 

— Dean Furman (@de4no22) June 22, 2018
Messi is not the coach of Argentina!
Messi is not a goalkeeper of Argentina!
Messi is not a defender of Argentina!
Messi is not Argentina!
He cannot perform a magic alone!
Please respect The him, GREATEST OF ALL TIME. #WORLDCUP #ARGCRO pic.twitter.com/1MOAxO9PWg

— JN SHINE™ (@jn_shine) June 21, 2018
He said it.#WorldCup pic.twitter.com/IN7XbJHMMo

— Smangaliso Mdluli (@SimangalisoMdl2) June 22, 2018
Croatia..!!!!
Modrić is super quality from his Tottenham Hotspurs day..!
 showing great leadership and class..!

This is getting Very Messi 

— Amanda toki Dlamini (@Amanda_Dlamini9) June 21, 2018
Nigeria vs Iceland tomorrow!!! Wow!! How HUGE is this game now!!!

*The Magic of the World Cup*#WorldCup #SSFootball

— robertmarawa (@robertmarawa) June 21, 2018
Bandenzani mama cela signal pic.twitter.com/irt3H4kcnr

— Sqhamo Melane (@sqhamzee) June 21, 2018
I'm flying out to Russia to support our brothers tomorrow ta rob... Lift? pic.twitter.com/T6i8t3HEUh

— Morie wale NOBLOHOEK (@MOrie_noblohoek) June 21, 2018
With Argentina falling apart, this is a gimme for Nigeria to go get a win v Iceland & place their noses ahead for 2nd spot. This is not the time to stand back and wait, otherwise Iceland and Argentina will be there to grab 2nd spot. #ARG's low on confidence, ready for the taking

— Ignat Football (@IgnatFootball) June 21, 2018