South Africa
EXTRA TIME: Neal Collins predicts Danny Jordaan's Safa exit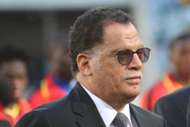 Well known journalist and one of the most popular South African soccer influencers on Twitter, Neal Collins predicted the departure of Danny Jordaan on Tuesday night.
This was when Bafana Bafana was about to play Senegal, and matters turned worse when the visitors lost the game 2-1 due to a late goal.
Collins wrote a highly critical Tweet predicting that Jordaan would soon be removed from his post. However nearly 24 hours later and there's no sign of that happening yet.
Nevertheless, Collins is not the only South African soccer follower hoping for change at Safa. Hoping and waiting for change doesn't make it happen immediately, because movement in the political and legal world takes time. 
One cannot prove any of these allegations against Jordaan, as the Safa President is ready to challenge his accusers in court. Time will tell.
STAY CALM! By midnight, with big guns taking aim, we could see the removal of the cruel dictator, alleged rapist, @fbi hunted, democratically defeated... DANNY JORDAAN@tumisole @ali_naka @AdvBarryRoux pic.twitter.com/vz3Ze4WJrL

— Neal Collins (@nealcol) November 14, 2017