Kaizer Chiefs
EXTRA TIME: Kaizer Chiefs' Itu Khune takes cooking further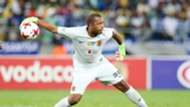 Now, he's taken it a step further... he's done it again! 
Itumeleng Khune's got the steaks on board, he's brought the veggies and everthing with him. All this for the love of his wife. That's a man in the kitchen for you!
With #ChefItu becoming a serious hashtag and Khune prolonging his time in the kitchen, we hope we won't see less videos of him in the pool.
Less videos in the pool may mean less Distribution 101 practice. Would that effect Khune's distribution on the field too? How will all this cooking affect his tummy?
Is Amakhosi's sports scientist having a look at what's on the menu here? Check out those massive pieces! There's no evidence of Khune taking it down. 
One piece should be enough to keep him springing around that goalpost.
Dinner is served #ChefITU pic.twitter.com/twLO3YSMBk

— IIKHUNE3216 (@IIKHUNE_32_16) February 5, 2018
Preparing Dinner for my Amor #ChefITU .......watch the space  pic.twitter.com/muq94dR5ob

— IIKHUNE3216 (@IIKHUNE_32_16) February 5, 2018