Kaizer Chiefs
EXTRA TIME: How the SA media and players reacted to Kaizer Chiefs fan violence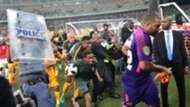 It was a shocking result for Kaizer Chiefs who were hoping to take a step closer to their first piece of silverware under Steve Komphela.
The Chiefs coach has received much criticism during his time at the club, and it all reached boiling point when the club got knocked out of the Nedbank Cup.
Even more shocking was the fan reaction, and those violent spectators spilling onto the field at the Moses Mabhida Stadium in Durban. 
Here's how the South African media and high profile players reacted to those horrorfic events, including footage shared by the media.
This lady security guard was kicked and beaten up and left unconscious...... #NedbankCup pic.twitter.com/qCVUrz5Lyw

— robertmarawa (@robertmarawa) April 21, 2018
This is just barbaric@KaizerChiefs fans should be embarrassed and should not be allowed into a stadium for a very long time @OfficialPSL @OfficialSMSA pic.twitter.com/0s5QdE8B5d

— Brent Carelse (@brentcarelse) April 22, 2018
About four fires have been started!! #NedbankCup pic.twitter.com/y7xqLreNQN

— robertmarawa (@robertmarawa) April 21, 2018
This is absolutely insane. I understand the emotions behind a game of football but this is taken to another level. Lives being put at risk, brutally attacking a WOMEN thats not even part of the reason behind their barbaric act. So disturbinghttps://t.co/8zAF4U7IPd

— Janine Van Wyk (@Janinevanwyk5) April 21, 2018
#KaizerChiefs#NedbankCup
Bra @robertmarawa is that a gun or ? pic.twitter.com/hIB9Gsx3an

— Anonymous (@MonarchySA) April 22, 2018
I am in Bangkok and I am very saddened to hear about the passing of a security guard at a football match.....please let caf take reprocutions not the psl or safa...we dont want to see this in our football anymore....please

— Mark Fish (@markfish74) April 22, 2018
SAFA condemns Saturday's violence at Moses Mabhida Stadium. SAFA Statement here: https://t.co/LKC5JNguK8 pic.twitter.com/RZ3oFr1zgz

— SAFA.net (@SAFA_net) April 23, 2018
No words pic.twitter.com/E7u5RE95Sh

— Joe Maluleke (@J0eMaluleke) April 22, 2018
Sad, unacceptable and very disappointing! pic.twitter.com/tNG4BA6w0s

— Marks Maponyane (@MarksMaponyane) April 22, 2018
It has arrived.. pic.twitter.com/zu5s6uRyiP

— robertmarawa (@robertmarawa) April 21, 2018
Khoza: "Action both preventative and remedial is necessary."

— Chad Klate (@CKlatey) April 23, 2018
Khoza confirms there has been no deaths in the wake of the riot that took place at Moses Mabhida Stadium on Saturday evening.

— Chad Klate (@CKlatey) April 23, 2018
Chairman Denounces Fan Violence https://t.co/EvuNfga9DJ #KCOneTeam

— Kaizer Chiefs (@KaizerChiefs) April 23, 2018
What kind of disgusting human being kicks a defenseless woman down on the ground in the face until she loses consciousness??? We need arrests here, not just sanctions forcing the club to play behind closed doors. More must be done. #nedbankcup

— Marc Lewis (@MarcLewisZA) April 22, 2018
#NedbankCup
Just because you're demolishing a camera - doesn't mean you can't be caught on camera
Just saying. pic.twitter.com/ee498MhVnm

— Cindy Poluta (@CindyPoluta) April 22, 2018
[BREAKING] @kaizerChiefs Head Coach exits the building following his #NedbankCup SF loss against Free State Stars. pic.twitter.com/9BUn7o0WQo

— M-Sports Marketing (@M_SportsSA) April 21, 2018
This is not ok. The last 10 seconds are HORRIFIC. There are NO words to describe this behaviour. Barbaric is too mild. @KaizerChiefs fans, do not be surprised if broadcasters refuse to show your games live #BanTheFans pic.twitter.com/BpIDnTxFZo

— Cindy Poluta (@CindyPoluta) April 22, 2018
#IrvinKhoza this is the guy that was carrying meat that Khoza is talking about.  pic.twitter.com/ZBxuT32EzE

— JAY (@Jayntuli) April 23, 2018