Simba
Erasto Nyoni opens up on historic Derby goal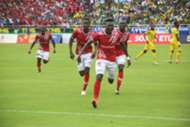 Erasto Nyoni has revealed that he saw the gap left by defenders in the box before scoring the goal that proved enough for Simba to beat Yanga 1-0 in the Dar es Salaam derby on Sunday.
The defender led the home side to the famous victory over their rivals and helped his team to get closer to the title this season.
Speaking after the match, Nyoni said that he saw the movements of Yanga defenders and noticed they were all looking for John Bocco and Emmanuel Okwi while forgetting other players like him, so he decided to keep himself in a good position to score an easy goal.
"Yanga knew that our main men are Okwi and Bocco that's why they kept tight security around them during the free kick, that gave me a chance to find a good place to position myself and luckily the ball came to that direction," said Nyoni.