CAF Confederation Cup
Enyimba to miss Chukwude & Ogbonnaya against Djoliba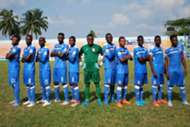 Enyimba have left for Bamako, Mali for Sunday's Caf Confederation Cup fixture with Djoliba AC but not with Stephen Chukwude, Nelson Ogbonnaya and Yinka Onaolapo and few others.
The People's Elephant are in a tight situation ahead of their tough date with the Malians and they must avoid defeat as much as possible to stand any chance of remaining in contention for a quarter-final berth.
Aside crossing the hurdle, the two-time African champions are also battling with injuries to some key players with Chukwude, Obonnaya and Onaolapo not making the trip to Mali.
Chukwude is presently out of the country for trials while Ogbonnaya is down with chest pain. Onaolapo on his part is just recovering from a lengthy spell on the sidelines and this game is coming too soon for him as he continues his road to full match fitness.
Despite the spate of the injuries Enyimba coach, Usman Abdallah noted that they have left for Bamako with players who are hungry to justify their inclusion with the three points at stake against Djoliba.
"We are aware of our challenges with injuries but that does not bother us at all," Abdallah told Goal.
"We have equally gifted players that can replace those that are not around. We don't want to make that one an excuse. We have prepared very well for this game and we are expecting a good result and hoping that we are going to have some favours from Williamsville when they travel to Brazzaville to face CARA.
"We are better prepared for this game than we did against Williamsville and we are expecting a favourable outcome. We do not want to be eliminated at this stage and we are doing everything possible to achieve that."
Enyimba are third in Group C with six points from four games with only two matches to the end of the group stage. Only the top two will qualify for the next round.