Muhammad Zamir
Almeida defends Zamir despite game-changing blunder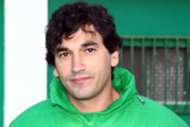 ---
BY        ZULHILMI ZAINAL       Follow on Twitter
---
Melaka United head coach Eduardo Almeida has defended his goalkeeper Zamir Selamat, after the custodian committed a blunder that led to their 4-1 defeat to Selangor on Wednesday.
Zamir had earlier saved his side near the end of the first half by keeping Rufino Segovia's penalty out in the Super League match.
However, with the scoreline at the Kuala Lumpur Football Stadium tied at 1-1 in the 54th minute, Zamir committed a blunder, sending his clearance into Selangor winger Syahmi Safari, who then pounced on the loose ball to give the hosts the lead again.
In the final minutes of the match, Zamir again allowed himself to be beaten by the youngster, this time at the near post, and the match ended 4-1 to the hosts.
The two remaining Selangor goals were scored by Spanish forward Rufino Segovia, while the visitors' only goal was scored by Tiago Gomes, a 30th minute freekick.
Speaking to the press after the match, the Portuguese admitted that Selangor's second goal killed his side's momentum, when they had been controlling possession since the second half started.
"The momentum was there, and perhaps (the mistake happened) due to miscommunication or something like that. Until that moment we were back in it and did not allow Selangor to play. But after the moment (second goal), the game changed and we could not turn things around again.
"(But) I'm not upset with anyone, only about the result, that we did not get the three points. This happens, in the first half he (Zamir) saved a penalty and the press say he's the best goalkeeper in the world. But after he made the blunder suddenly he's the worst 'keeper in the world.
"Surely he did not want that to happen. It happens in soccer, we have to deal with it and focus on the next match. I can't stay upset when a player makes a mistake," explained the 39-year old coach.
And when asked by Goal about the aspects of his team's game that need to be corrected before their next match, against Negeri Sembilan, Eduardo explained:
"We need to be more aggresive in attack while keeping it simple, and also to avoid making mistakes like tonight. We need to regain our confidence because we had won our first league game, before losing the second playing away to a good team.
"We've lost three points tonight, so we need to go looking for them again at home. In soccer we need to take it game-by-game."