I-League
​East Bengal - Mohun Bagan tactical preview: Morgan, Sen presence boost chances of a memorable Kolkata derby
The Kolkata derby is celebrated for its ability to pull thousands to the ground, even in its 97th year. Amidst all this clamour about fans' madness around the fixture, the tactical nuances of this encounter are usually forgotten.
East Bengal, Mohun Bagan touchdown in Siliguri
Over its almost century-old existence, this tie has seen a number of memorable tactical battles, with the Federation Cup semi-final in 1997 being the most remembered occasion, where Amal Dutta's newly introduced diamond system was crushed by Bhaichung Bhutia and company, as East Bengal swept to a 4-1 victory. Over the last few years, the marquee clash of Indian football has rarely lived up to its hype with coaches usually taking a safety-first route which, within the initial few minutes, is reduced to thumping of long-balls from deep inside defensive halves.
This time, it can be a different affair altogether with the top two teams of the league preparing under the watchful eyes of two veteran but equally affable coaches. There are a few things common between Trevor James Morgan and Sanjoy Sen - they love to stick to the same formation for the whole season, the players have blind faith in their coaches' game-reading ability and they are never shy to go for the kill.
A statistical look at the East Bengal-Mohun Bagan rivalry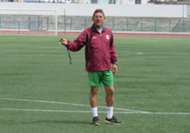 During his first season at the helm of the Mariners, with whom he famously won the league in 2015's I-League season, Sen went with a 4-2-3-1 formation with Pierre Boya operating just behind Balwant Singh or Jeje Lalpekhlua. This year, he has resorted to a 4-4-2 formation, mainly to accommodate two poachers Darryl Duffy and Jeje Lalpekhlua upfront, with none of these two celebrated strikers being comfortable in the number 10 role. This has not really helped their cause. The midfield, where the defensive and attacking responsibilities were distributed among Pronay Halder and Souvik Chakrabarti last season, has failed to bridge their gap with the strikers.
Sony Norde needs to step up in Kolkata derby
Ahead of the derby, Sen will have his work cut out to choose the two central midfielders. Souvik and Bikramjit Singh are more adept in keeping the ball and distributing while Pronay and Sehnaj Singh specialize in snatching and acting as a shield ahead of the defense. Most probably, the former India U-16 coach will pick one player from each category. The diversity on the flanks remains their biggest weapon, with Sony Norde's flair being perfectly complemented by skipper Yusa Katsumi's speed and work rate. The Haitian, who has made life difficult for almost all Indian right-backs, has been their main threat going forward ever since his arrival and will be aided by Duffy, who has scored more goals in the last three I-League campaigns than anyone currently playing in the competition.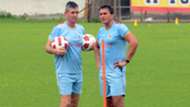 Robin Singh's platform for revival and redemption
On the other hand, the Red and Golds are going into this face-off the more organised side even though their new foreigner Chris Payne will not be playing in the match after arriving in Kolkata on Friday evening. Morgan has adopted his favourite 4-1-2-1-2 diamond formation once again where Mehtab Hossain sits deep ahead of the back-line. The role of left-winger Lalrindika Ralte in this set-up has been very interesting, with the Mizoram-born player often slotting to a central role as Nikhil Poojary taking over as the principal crosser of the ball from the right-flank. 
On the left, the responsibility is equally shared between full-back Narayan Das, even though the India international has struggled at times to juggle between his dual role of defending and overlapping. Wedson Anselme, who has been handed the license to roam freely, can turn out to be Trevor's trump card on Sunday and it's his goal-scoring prowess that has been the biggest boon for a team, which has had to rely only on strikers for goals in the last two editions. It will not be surprising if the Bagan midfield ends up having little connection with their forward line while dealing with Ralte and Wedson, as the duo would clog the midfield and fight for every loose ball.
There are also intriguing sub-plots in the game, with U-22 players Subhasish Bose and Nikhil Poojary going head to head on one flank. It is set to be the first derby for defenders like Ivan Bukenya, Eduardo Ferreira, Anas Edathodika and one, after a long time, for Gurwinder Singh who will all try to avert any defensive mistake that may change the course of the contest.
Combined XI - East Bengal and Mohun Bagan
In his last derby in charge of East Bengal back in May 2013, Morgan, a former Hull City development coach, had tweaked his formation to 4-3-2-1 with Cavin Lobo and Penn Orji operating behind Chidi Edeh, who played as the lone striker. It definitely was the best team performance of this decade in the derby against a full-strength opponent, as Morgan's boys ran riot in a 3-2 win with the score-line being way too flattering for Karim Bencherifa's boys.
It's very unlikely that any of these two coaches will have a similar surprise up their sleeves this time around. Two pragmatic tacticians, who are both advocates of attacking football and have tried their best to undermine the importance of Sunday's match in the title race, have what it takes to turn this contest into a memorable one.