Football Business
Juventus president calls for improvement to commercial revenues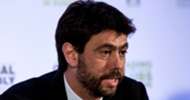 Juventus president Andrea Agnelli has confirmed that the Italian giants made an operating loss in the 2017-18 season.
In a statement to club shareholders on their official website, Agnelli suggested that the loss – following four years of an operating profit – was aggravated by interest and tax payments, criticising IRAP (Italian Regional Production Tax), which he says "heavily penalises" the football sector.
While specific financial details of the loss were not disclosed, Agnelli was keen to emphasise the impact of on-pitch successes on bringing in more than €400 million in revenue for the second year running.
The losses may well continue into next year following the €100m marquee signing of five-time Ballon d'Or winner Cristiano Ronaldo in July, with that fee and his wages not included in the 2017-18 figures, although the commercial revenue brought in by the superstar should mitigate some of that outlay.
In response to losses, the Juve president has urged the club to continue their global commercial growth in order to maintain their position in the top-tier of the Italian and European clubs.
Agnelli wrote in the open letter to shareholders: "Within our club, we must be capable of significantly increasing our commercial revenue to consolidate our position at the top, both nationally and internationally. We will be playing our matches on Italian and European pitches but the commercial challenge is global.
"Internationally, your club must identify new forms of sponsorship, new opportunities for digital visibility and new ways to expand our business, with everything geared towards the same primary objective that this management group has always had: to provide the resources needed to maintain a winning team."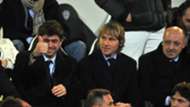 Agnelli was also mindful of Italian football's success as a whole, with the country falling behind other nations following their failure to qualify for the 2018 World Cup – meaning it missed out on potential commercial opportunities.
However, he remained hopeful of a bright future, hailing the introduction of reserve teams into Italy's third tier, Serie C, and the ongoing growth of women's soccer in the country, as well as offering praise to Serie A's new president.
He added: "Italian football is struggling to close the gap with other footballing nations but signs of rejuvenation offer hope, for the first time in years, that the future might be brighter. In the last few seasons, growth has been notably lower than elsewhere in Europe.
"In his first few months as president, Gaetano Micciche has imposed a management style typical of the business and finance world he comes from. The Lega Serie A can now legitimately assert its leadership, which is its natural role but one it lost during the dark years."