Transfers
Don't call him the new Ibrahimovic! Alexander Isak - the Swede who rejected Real Madrid for Dortmund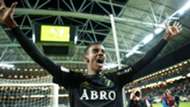 ---
PROFILE
---
Alexander Isak may only be 17 but he has already learned one important lesson: "You never know what will happen in football." The past five days are a case in point.
As Sweden's newest striking sensation was speaking to Fotbollskanalens podcast Lundh last week, it was widely believed that the AIK Solna starlet was ready shun interest from the likes of Manchester City and Chelsea in favour of joining Real Madrid.
Official: BVB sign 'new Ibra' Isak
Certainly, los Blancos believed it was a done deal, having been in contact with Isak and his representatives since last year. However, then Borussia Dortmund managed to persuade the Swedish starlet that he would have more opportunities to flourish at Signal Idunda Park than the Santiago Bernabeu.
It was a compelling argument. BVB have both developed and signed a plethora of talented youngsters over the past few years, such as Mario Gotze, Julian Weigl, Christian Pulisic and Ousmane Dembele.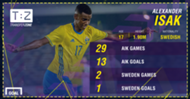 Isak had previously expressed a preference for playing in England or Spain. "I like the football in La Liga the most," he admitted. "But if I have to choose something to watch I choose the Premier League, because it always has good games with a lot of swings. You never know who will win.
"So, I would say the Premier League is the most fun to watch, but the football in La Liga is better."
However, BVB pointed out that he would get more first-team opportunities in the Bundesliga. Furthermore, Isak and his family were made acutely aware of what had happened to the last Scandinavian teenager to move to Madrid.
Does Odegaard have a future at Madrid?
Martin Odegaard joined the European champions to great fanfare in January 2015, touted as 'the Norwegian Messi'. Earlier this month, he was loaned to Eredivisie outfit Heerenveen for 18 months.
Isak did not want to make the same mistake of running before he could walk, something hinted at by BVB sporting director Michal Zorc after the deal was made official on Monday.
"Alexander Isak is a hugely-talented striker, who many top clubs in Europe wanted to sign," sporting director Michael Zorc stated. "We are delighted that he has chosen Borussia Dortmund. Both BVB and the player himself are convinced that this transfer has great potential."
There is no disputing that. While the reported fee of €10 million is an awful lot of money for a teenager, there is no denying that Isak has all the attributes required to excel at the highest level. He is 1.90 metres tall, powerfully built, quick and technically gifted. Inevitably, he has already been labelled the 'new Zlatan Ibrahimovic'.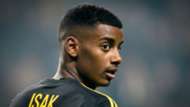 AIK expert Clabbe Stromberg told Goal: "Isak is the complete opposite of Ibrahimovic. You can't compare him to the early Zlatan in any way. He is not diva, but he is a team player. He is very mature for his age - on and off the pitch. He always stays cool and relaxed. As a person he reminds me of Robert Lewandowski."
The good news, though, is that Isak is ignoring the hype. "Ibra is an absolutely fantastic player, but I do not really follow what the papers say," he insisted last week. "I am going to be relaxed about it."
Certainly, the signs are that he will take the BVB move in his stride. Nothing has fazed him thus far. He made his first competitive appearance for childhood club AIK in a Swedish Cup clash with Tenhults IF at just 16. He had 15 minutes to make his mark. He needed just 11 to open his account as a professional.
In April, he became the youngest ever goalscorer in Allsvenskan history (16 years and 199 days) with a strike against Ostersunds FK. He would end the season with an impressive record of 10 goals in 24 league appearances, with his fine form earning him a call-up to the Swedish national team.
RUMOURS: Chelsea & United want Bale
There was to be no debut goal against Ivory Coast on January 8, but history was again made when he netted on his first start, in a 6-0 rout of Slovakia four days later, thus making Isak his country's youngest-ever goalscorer.
Whether Isak can maintain this remarkable rate of development will depend on many variables. As he is already well aware, nobody knows what will happen in football. But he certainly has the talent, and the temperament, to make an even bigger name for himself under the careful tutelage of Thomas Tuchel in the coming years. For once, rejecting Real might prove the right decision.