Ghana
Dodoo sheds light on his finishing ability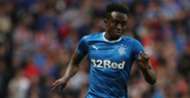 Rangers frontman Joe Dodoo says his recent good showing is down to hardwork.
After coming on as a substitute, the 21-year-old scored a goal and assisted another as the Gers claimed a 3-0 away victory over Aberdeen in the Scottish Premier League last weekend.
The Ghanaian-born was, however, unlucky to get a second goal in the game after his effort came off the woodwork.
"My finishing comes down to the work I do at training. It is something I have been doing for years and that doesn't change whether I am playing or not," Dodoo told Rangers TV.
"You always have to be ready and if you are always ready then you will always perform so I have to stick to my routine and continue to work hard.
"At the same time, you have to be calm and try and make the good decisions because sometimes if you are a bit overexcited you can make the wrong decisions and you can do some things wrong.
"If you are composed, then you can always finish your chances but mainly you have to practice out there at training and do it every day.
"If an opportunity comes you are more likely to take it, sometimes you have to read a situation and try and make the best decision from there."
So far, Dodoo has netted three times in 15 league games for the Light Blues. He started only two of those matches.
The striker joined the Scottish outfit on a four-year deal from English club Leicester City last year.