UEFA Champions League
De Laurentiis accuses Higuain of costing Napoli Champions League football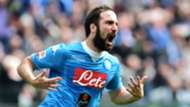 Outspoken Napoli president Aurelio De Laurenttis has accused Gonzalo Higuain of costing the club Champions League football in 2014-15.
The Argentine enjoyed three prolific seasons in Naples, netting 91 times in 146 appearances.
De Laurentiis' craziest quotes
He improved his goal return year on year, with his final campaign delivering 38 efforts and a second place finish in Serie A.
It was, however, the season prior to that which saw the striker struggle on penalty duty and fail to inspire Napoli to better than a fifth place standing.
De Laurentiis is not about to forget that fact, with the Napoli supremo taking another veiled dig at a man he saw lured away to rivals Juventus in a big-money deal last summer.
He told El Pais: "He had a release clause and if someone was interested and mad enough to pay it, I wasn't going to say anything.
Higuain salutes Allegri's words
"But there are other players who accept being considered part of my family and who look on me as a father figure. Those that aren't like that; it's better to sell them every three years.
"He had one of his best seasons here but in his second we missed out on second place and the Champions League because he missed decisive penalties."
De Laurentiis also revealed that Higuain was never a fan of a certain Spanish team-mate during his time at Napoli, despite the pair moving to Italy at the same time from Real Madrid.
He added: "Higuain's brother always told me that he didn't like playing with [Jose] Callejon and that I should buy other players.
"But I never took any notice of him because I love Callejon. I'm not someone who can be blackmailed."
Napoli may not have Higuain on their books any more, but they have impressed on domestic and European fronts this season and will be hoping for Champions League inspiration on Tuesday when they take in the second leg of a last 16 encounter with Real Madrid trailing 3-1 in the tie.