India U20
COTIF 2018: India U-20 hold Venezuela U-20 to a goalless draw in Spain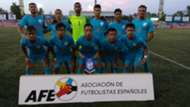 The Indian U-20 National Team held Venezuela U-20 to a goalless stalemate in their third match of the COTIF Cup in Valencia, Spain on August 4, 2018.
Defenders Anwar Ali and Jitendra Singh were re-instated in the starting XI after serving their suspension in their previous match against Mauritania, but Rahul KP and Sanjeev Stalin continued to be sidelined with their respective injuries.
The India colts put in a steely performance at the back to hold their fort against the U-20 World Cup runners-up. The South American nation started firing on all cylinders from the word go making their intentions clear. 
They could have taken the lead as early as the 17th minute when an inch-perfect cross from the right was well connected by a Venezuelan player, but failed to keep his effort on target. The Indian defence stood resolute and weathered the early storm to perfection.
India started to see more of the ball after the opening half-hour but lack of cohesion and creativity dented their chances in the attacking third. 
The second-half started with the same dynamics as Venezuela started on the ascendency. In a brilliant counter-attack Ninthoi Meetei surged forward and put in a cross from the right but there were no blue shirts to latch on to the delivery. 
Both teams were locked in an intense midfield battle in the last quarter of the match. Rahim Ali was brought on for the last 20 minutes to add pace in the wings substituting Meetei. 
As the match entered its final stretch India took the safety-first approach and chose to clear their lines. After succumbing to two successive defeats the blue cubs registered their first point on the board as they refused to get beaten.
They next face South American giants Argentina on August 5.