World Cup
Combined USA, Canada and Mexico league proposed after 2026 World Cup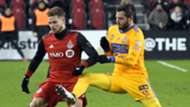 Mexican Football Federation (FMF) president Enrique Bonilla has proposed a combined league of the best United States, Canada and Mexico teams after the 2026 World Cup. 
The three countries will host the event after beating out Morocco with their joint bid earlier in the year. 
It will be the first time the World Cup splits hosting duties across three nations, as well as the first tournament to feature 48 teams. 
Mexico remains North America's biggest football market, with television viewing figures in the US beating even MLS. 
And Bonilla sees their historic cooperation as a trend that should be extended once the World Cup comes to an end. 
"It's a possibility, a North American league," Bonilla told reporters at the Leaders summit at Chelsea's Stamford Bridge stadium.
"We have to determine how and see the pros and cons but I think that's a way to grow and to compete again.
"If we can make a World Cup then we can make a North American league or a North American Cup. The main idea is that we have to grow together to compete. If not, there is only going to be the rich guys in Europe and the rest of the world.
"We think this opportunity with the World Cup in 2026 opens the door for us to make a lot of things different and better."
As it stands, Liga MX and MLS clubs can meet in two different competitions. 
The CONCACAF Champions League has been running since 1962, and brings together the best sides in North and Central America. 
Mexican teams have won the trophy on a record 34 occasions, while only DC United and LA Galaxy have prevailed north of the border. 
In 2018, meanwhile, the Campeones Cup was introduced, a single match between the winners of MLS and the Liga MX's Campeon de Campeones. 
The inaugural edition was won by Monterrey's Tigres, who ran out 3-1 winners over Toronto FC in the Canadian city's BMO Field.