Kaizer Chiefs
Coaches should not be the only ones who bear the brunt of criticism, says Kaizer Chiefs legend Neil Tovey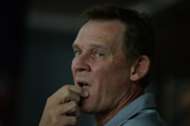 Former Kaizer Chiefs star Neil Tovey believes that it is not only coach Steve Komphela who should bear the brunt for Amakhosi's recent decline.
Although Chiefs currently find themselves in fourth position on the Premier Soccer League (PSL) table, fans have grown frustrated with the club's lack of success under the 50-year-old's mentorship. Now, with the club set to miss out on the league title after losing to Chippa United on the weekend, Komphela has found himself in the firing line with fans demanding his head.
However, former Chiefs and Bafana defender Tovey, believes that it may not just be the coach whose head should be on the chopping block. Speaking to the media at Safa House on Wednesday, the current Safa technical advisor believes that Chiefs management need to look at the kind of players that are representing the club.
"Chiefs have gone through difficult aspects but they are still in the cup," an optimistic Tovey said.
"Steve's got an opportunity to win a cup competition come the end of the season. Football now is not about one or two teams, and they know that they have got to do analysis of what went wrong and what went right this season. What players are of Chiefs standard and which players are not of Chiefs standard and where do they want to be.
"So, who are they going to look to change the fact that they have not won a trophy in three years, because we can talk about coaches who always have to bear the brunt, but have they the capacity of players who can compete competitively throughout the season, and what they have to look at," he added.
Meanwhile, Tovey who was attending a Fifa technical directors workshop which looks to enable technical directors on the continent with the knowledge to improve the overall development and standard of the game, revealed that he was satisfied with the level of competition in the PSL race.
"It's good, we want a title race. We want competitiveness in our football," he said.
"We don't want one team like it's happening In the Premiership in England, where one team is racing away with the league. It's going to go right down to the wire and at this moment there is not just two teams, although people thinks it's just Mamelodi Sundowns and Orlando Pirates involved," he revealed.
"There are still other teams that are still in the mathematical mix, and that's when the pressure counts. Who can keep the pressure, who can do the right things, who can manage game situations right down to the death," he expressed.