Liverpool
Christian Pulisic: I was never thinking about going to Liverpool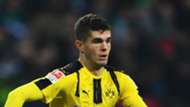 Borussia Dormund midfielder Christian Pulisic has insisted that moving to Liverpool was never a real possibility for him.
The American teenager joined Dortmund's youth academy in 2015 when Jurgen Klopp was first-team manager, and after Klopp moved to Liverpool speculation grew that he was keen on bringing Pulisic with him.
That speculation ended when Pulisic signed a new deal with Dortmund in January, and the winger says he was never really close to a Liverpool move. 
The Premier League's Worst Team of the Season
"I have respect for Klopp and I know him – he was very welcoming to me here – but I was never really thinking about going to Liverpool," Pulisic told FourFourTwo. 
"Borussia Dortmund have given me everything. If I work very hard here, I will play, and I love this club. I'm happy in the city, I'm just really content with everything here at the moment."
Since making his debut for Dortmund in January 2016 as a 17-year-old, Pulisic has scored four goals in the Bundesliga and become a regular for Thomas Tuchel's side.
"If you'd asked me three years ago when I started with the youth team, I did not think I'd be in this position today," he said.
"Scoring my first goal was incredible – you never forget your first goal. I celebrated by doing a dab because I didn't know what to do! My family were proud of me. It must have meant a lot to them, too."