Primera División
Chelsea send classy message of support to Torres after frightening head injury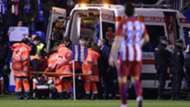 Chelsea have sent a message of support to Fernando Torres after the striker suffered a horrific head injury in Atletico Madrid's 1-1 draw with Deportivo.
Torres suffers horrific head injury
The Spaniard suffered a head trauma after he crashed to the ground following an aerial challenge and, after being treated by medical staff on the pitch, was then quickly rushed to hospital.
Both sets of players and staff were visibly shaken up by the incident, with Atleti defender Jose Gimenez particularly distressed as he covered his face with his shirt.
Thoughts tonight are also with @Torres. Get well soon Nando, from everyone at Stamford Bridge. pic.twitter.com/wTgiHb1y3C

— Chelsea FC (@ChelseaFC) March 2, 2017
Atleti initially confirmed that Torres had suffered a head trauma and that he would spend the night in hospital. An update on their official Twitter feed read: "Fernando suffered a head trauma.
"He was taken to hospital for testing. He will spend the night under observation."
And a further, more positive, update confirmed that the former Chelsea and Liverpool striker was conscious and that there as seemingly no permanent damage.
The follow-up tweet confirmed: "Torres has had a cranial and cervical CT [computed tomography scan]. No traumatic alterations or injuries [were discovered]."
Chelsea signed Torres from Liverpool for a British record fee of £50 million back in 2011 and the 32-year-old is clearly still highly thought of at Stamford Bridge.
Kante wins London Player of the Year
After learning of the news about Torres's worrying injury, the club's official Twitter account posted their own message of support.
The tweet, accompanied by an image of the striker during his Chelsea days, read: "Thoughts tonight are also with Torres. Get well soon Nando, from everyone at Stamford Bridge."