African Nations Championship
CHAN 2018: Zambia will not underestimate Namibia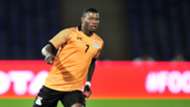 The game scheduled for Stade de Marrakech will determine group 'B' winner as both the teams have booked tickets to the round of eight.
"We are not going to underrate them, winning two games in a tournament is not easy.
"We just have to believe in our abilities and go there with the right attitude and come up with a good result," the Zanaco defender said.
A win or a draw will book the Chipolopolo a date with Sudan in the quarterfinals on 28 January 2018 in Marrakech.
While group's runners-up will take on hosts and tournament's favorites Morocco in another clash in Casablanca on the same date, a possibility Zambia would wish to avoid.
"Our aim is to go beyond the quarterfinals and so far we are very grateful to the team for what they have done," Zambia's assistant coach Aggrey Chiyangi said.
Chiyangi echoed Tembo's sentiments; "We know our players have done very well but we are not underrating any team."
He added: "We just want to have the same seriousness all the way up to the finals."
On the road to the quarterfinals the coach Wedson Nyirenda's side thumped Uganda 3-1 before dispatching Cote d'Ivoire 2-0 in the second match.
While debutants Namibia secured slim 1-0 wins against Cote d'Ivoire and Uganda to sail through to the knockout stage on first attempt.
Nyirenda will still make do without striker Alex Ng'onga and midfielder Godfrey Ngwenya, who are out recovering from injuries.
"We probably hope that during the week they would have fully recovered and return to full training," team doctor Mwila Lupasha revealed.