PSL
Cardoso: We understand Komphela better now at Kaizer Chiefs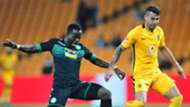 Kaizer Chiefs defender Daniel Cardoso says they understand Steve Komphela better now hence the change in their fortunes.
"I think we are understanding the coach better now. We are more positive now. Last season, we worked on a lot of tactical things and it's coming into play now.
"All the opportunities that come our way we are taking most of them now," Cardoso told Goal.
Furthermore, Cardoso attributes the extra work they have been putting at training as some of the reasons for finishing the chances that come their way in recent matches.
"Even if we get one goal a game and we don't concede, it's helping us. We are not only looking at the opportunities we get and I think that is helping us a lot.
"That obviously comes down to training. The guys have been doing extra work at training with their finishing. So that's what has helped us out a lot," Cardoso said.
The 27-year-old played his first full 90 minutes of the year against Highlands Park in Durban last Saturday and doesn't mind filling in for a suspended or injured players as he did on that occasion.
"It was good to get a run out. I had a good game with the MDC team before that and I am just glad that the coach can give me another chance to play even if it is a suspension or if someone is out (injured) I don't mind filling in the gaps so that my confidence can get better," Cardoso conluded.
With Lorenzo Gordinho on suspension for their trip to Ajax Cape Town on Saturday, Cardoso could play his successive 90 minutes as he is set to partner the returning Eric Mathoho at the Athlone Stadium.