A-League
Brisbane Roar's social media accounts 'frozen'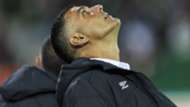 On the same day Usain Bolt has been linked to a trial with Central Coast Mariners, Brisbane Roar have raised a number of eyebrows after 'freezing' their social media accounts.
The club have been using a specific graphic on images for a few days now with both their Facebook and Twitter accounts eventually frozen completely on Tuesday.
Not long after that unusual activity, the Roar revealed that they'll be making a major announcement on Wednesday morning at their training facility in Logan.
Coach John Aloisi and striker Adam Taggart will both be in attendance as the reason behind the club's frozen accounts is likely revealed.
Speculation has been swirling on social media as to what it all means with some pretty hilarious takes.
— AJ Cadman (@AJC97Oxford) July 16, 2018
— Joey Lynch (@joeylynchy) July 17, 2018
— Jon (@Jon_T1996) July 17, 2018
UPDATE
Brisbane Roar's social media accounts were restored to normal on Wednesday morning with the club revealing they have signed a two-year deal with ActronAir, who will be the club's new principle partner.