Betting
Betting Basics: Understanding the difference between Scorecast, Wincast and Timecast plus how to use them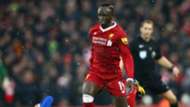 Low-risk high-reward bets are some of the most popular markets on any match, especially for the more recreational punter.
One such bet is the various "cast" bets, which have evolved over the years as more markets have been added by bookies, and are nothing to do with the forecast or tricast associated with horse and greyhound racing.
Scorecast
The scorecast is one of the best examples of a low-risk, high-reward bet; this market allows bettors to choose who they think will score first in a match and combine that with the final score of the match to create odds that usually represent a significant return, obviously depending upon the two options which are included.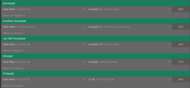 The first goalscorer and the final score of a match are what's known as a related contingency, which means that the outcome of these bets directly influence one another and as such, a standard accumulator cannot be placed on these markets, so the only way to bet these two markets together is through a scorecast.
For example, a bet on Liverpool forward Sadio Mane to score first in a 2-1 win over Manchester City comes out at 60/1 (61.0) with bet365. It's important to note that unless otherwise stated, these markets are almost always related to the final score after 90 minutes and doesn't include any extra time, an important factor to be aware of.
Anytime scorecast
Alternatively, the same firm also offers the anytime scorecast, which is the same as a scorecast except the chosen player only has to score in 90 minutes, which takes the pressure off them breaking the deadlock but also offers significantly lower odds because of that fact.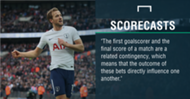 Similarly, a first half scorecast can be laid and this offers customers the chance to bet on who they think will score first and what the score will be at half-time, as opposed to full time.
Timecast
As betting has evolved in the last five years or so bookmakers have started to allow bets on almost anything associated with a match – including the time of the first goal, which is where the timecast comes in.
Punters can select the player they think will score first and the time period in which they will score; bet365 currently offer the goal to come between the first and 20th minute, the 21st minute and the 45th minute, or after the 46th minute.
Wincast
Finally, a simple wincast can also be backed, which consists of the player to score and the result of the match, but does not require the punter to wager on the final score. Some firms, such as bet365 settle on the first player to score in the game, while others will be pay out on the selected participant netting at any time during the usual 90 minute period so check the details before placing your selections.
Odds correct at the time of writing. Please gamble responsibly.