Manchester City v Manchester United
Bernardo Silva stands by ruling out Man Utd Premier League chances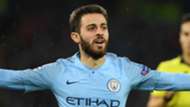 Manchester City midfielder Bernardo Silva says he was right to rule out Manchester United's hopes of challenging for the Premier League title this season.
The 24-year-old omitted Jose Mourinho's team from his list of candidates for the crown this term, causing a stir among fans.
Reigning champions City are leading the pack after 11 matches this season with a two-point lead over Chelsea, Liverpool and Tottenham, while the Red Devils are a further seven behind in eighth place.
United will get a chance to narrow the gap on Sunday when they pay a visit to Pep Guardiola's team, but Silva believes last season's runners-up will struggle to claw their way back up to become a contender.
"Well how many points are they behind us?" Bernardo said to The Times when pressed on his comment.
"I just think, looking from now, that if they are already nine points behind it will be more difficult for them to play for the title than Liverpool, Chelsea, City or even Tottenham or Arsenal. So that was the point, not because United is not a very good team and not a contender."
United manager Mourinho has attracted criticism recently for gesturing to rival supporters after games amid his side's tumultuous campaign.
Portugal international Silva, however, stressed he has respect for the former Real Madrid and Chelsea manager.
"He represents our country in a very good way," he admitted.
"It's good for us as a small country that we have people like Cristiano [Ronaldo], Mourinho representing us at a high level."