Primera División
Barcelona should thank Luis Enrique for winning treble - and he may even lift La Liga again!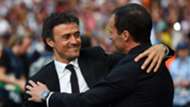 ---
COMMENT
---
It is the right time to move on. Luis Enrique is clearly tired of life at Barcelona and performances on the pitch have been much more inconsistent than in his first two seasons at the Catalan club. The Asturian has now confirmed he will leave in the summer - but fans should be thankful for all he has achieved.  
"I want to announce to everyone that I won't continue at Barcelona next year," the 46-year-old said after Barca's 6-1 win over Sporting Gijon on Wednesday night. "It's difficult, but it is a decision I have thought about. I need to rest. That's the main reason why I am not going to continue."
That is understandable. Jose Mourinho has yet to stay more than three years at a club, while former Barca boss Pep Guardiola only ended up remaining for a fourth, less successful season at Camp Nou due to his emotional attachment to the Blaugrana.
By the end of his tenure, Guardiola had grown tired of the media and the stress of the job. And there have been similar signs with Luis Enrique lately, the Asturian arguing with a reporter after the 4-0 loss at Paris Saint-Germain last month and another tense exchange with a journalist following the 2-1 win at Atletico Madrid on Sunday.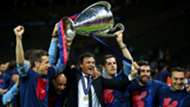 He has had enough and like Pep, who took a sabbatical after leaving Barcelona in 2012, he now needs a rest. This is one of the most draining managerial jobs in football and with the fans frustrated at recent displays, it is ultimately for the best.
But the supporters should be grateful for all his hard work. Some of the recent criticism after Barca's 4-0 defeat to PSG was brutal and unfair. Whatever the fans think about Luis Enrique's coaching, this is a man who has dedicated 14 years of his life to the Catalan club (eight as a player, three as coach of Barca B and three more with the first team). And, of course, he won a treble.
Ronaldinho: I must watch Messi more
A treble of domestic league and cup crowns plus the Champions League/European Cup is something achieved just eight times in football history and Barcelona are the only team to have done it twice - under Pep Guardiola in 2008-09 and with Luis Enrique in 2014-15.
So some fans would do well to remember that. Because although many have been critical of the Asturian's style, a coach is employed first and foremost to win major trophies and in that respect, Luis Enrique has delivered emphatically.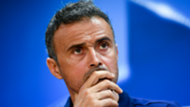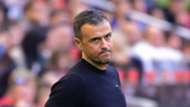 In addition to the treble triumph, which was the most successful season statistically in Barcelona's history, he has added five more trophies so far during his time at Camp Nou.
Special Report: La Masia in decline
The former Spain midfielder led the Catalan club to another Primera Division title last season and completed a domestic double by adding the Copa del Rey as well. On top of that, he has also claimed a Club World Cup, a UEFA Super Cup and a Spanish Supercopa.
In total, he has won eight titles of just 10 available up until now and after Guardiola and Johan Cruyff, he is the third-most decorated coach in the club's history. It is not over yet, either, with Barca in the final of the Copa del Rey where they will be big favourites to beat Alaves and also very much in contention to win La Liga with leaders Real Madrid struggling at home to Las Palmas on Wednesday.
The Champions League looks more difficult after the 4-0 loss in Paris, but with the pressure off, Barca can have a good go next week. And whatever happens between now and the end of May, supporters should thank Luis Enrique for the treble, for the other eight trophies he has won and all his hard work too. And whoever replaces him will have a very hard act to follow.