Portugal v Wales
Barcelona? Manchester United? Andre Gomes is impressing nobody at Euro 2016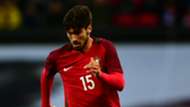 ---

COMMENT
---
Six weeks ago, Manchester United and Juventus were in direct competition for the signature of Andre Gomes. Since then Jose Mourinho has added Henrikh Mkhitaryan to his squad while Massimiliano Allegri has signed Miralem Pjanic. 
Barcelona have been linked in recent days – with sporting director Robert Fernandez described as "infatuated" with Gomes by one Spanish newspaper. Real Madrid are the latest super club to be associated with the 22-year-old; he may yet provide the fall-back option if los Blancos fail to land Paul Pogba. Their interest is long-standing following his terrific performance during the game that more or less ended Rafael Benitez's Bernabeu reign in January.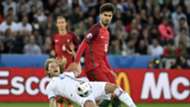 Barcelona's budget is known to be around the €60 million mark for transfers this summer. Around €25m of that has been lavished on a defensive option in Samuel Umtiti. Another €3m more has gone on recapturing Denis Suarez. While €8m has been banked through the sale of Marc Bartra to Borussia Dortmund - that would mean Barca are left with only €40m or so in the pot.
Valencia envisage earning a lot more than €40m when they eventually cash in on Gomes. His release clause alone is reckoned to start some €60m north of that. It is simply not money Barcelona can afford to spend – despite Gomes's potential suitability as a long-term replacement for Andres Iniesta – and considering they still need a back-up striker.
Benfica - where Gomes grew up - are entitled to a hefty percentage of any deal. Valencia's failure to land Champions League football leaves them vulnerable to approaches from bigger clubs for their stars. That is what Real Madrid can offer and the European champions are also in need of a long-term replacement for Luka Modric. Gomes's potential, power, balance and creativity make him a good option for the future. 
In a Valencia team performing badly, Gomes was one shining light last season. His assists and deft midfield play marked him out as a unique talent. At 22 years of age and about to be unleashed at his first international tournament, observers around the world were keen to see what he could do at Euro 2016.
The tournament has – on a personal level – been a disappointment.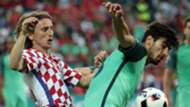 He started all of Portugal's first four matches in the competition and was taken off in all four. He was admittedly impressive in setting the tempo of his team's play during the first game – against Iceland – but has faded badly since then.
He missed two days' training last week before being absent from the Poland game altogether. Although he's back in training and expected to be fit to face Wales in the semi-final, he's got another problem - Renato Sanches.
The Benfica teenager has taken Gomes's slot in the team and added a dynamism and midfield threat that was lacking when he started. Fernando Santos is a conservative coach by nature but even he would be reluctant to drop the 18-year-old now.
Gomes needs a strong showing if he features in the semi and might even have another chance to impress potential suitors in the final.
It's foolhardy to sign a player on the back of one tournament alone; for every James Rodriguez there's a Kleberson but this European Championship was Gomes's chance to perform for an audience outside Iberia. Injuries and a lack of form mean many will be left with the impression that Manchester United and Juventus were right to back out. 
Goal journalists are powered by the Samsung Galaxy S7 and Gear 360