Ghana
Ayew brags: Ghana now getting started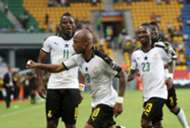 Despite winning their opening two matches and effectively qualifying for the last eight, Ghana attacker Andre Ayew insists his outfit are now about to take off at the Africa Cup of Nations in Gabon.
The Black Stars face Egypt in their last group game at Stade de Port-Gentil on Wednesday, following earlier separate 1-0 triumphs over Uganda and Mali.
"We've qualified for the quarter-finals and I can say the tournament is now starting for us," he told Graphic Sports.
"When you get to the quarter-finals, that is the knockout stage, that is where the real tournament starts.
"We wanted to qualify and we have qualified. Now there's another game coming up [against Egypt].
"We're going to prepare for it. We know that we have a big game coming up in the quarter-finals and we have to prepare for it and use the Egypt game to make us better for it.
"We're not under pressure, so we can go and relax and play our game. 
"We have a lot of quality to do it. We have a good team and show a lot of maturity when we're playing."
Ghana are eyeing a fifth Cup of Nations title after successes in 1963, 1965, 1978 and 1982.
The side have since their last triumph made the final on three occasions - 1992, 2010 and 2015.