World Cup
Australia's 2022 World Cup bid targetted by 'black ops' campaign - report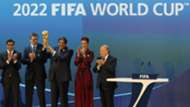 Qatar's already controversial claim to the 2022 World Cup has been cast in more doubt with a report suggesting the nation's bid team utilised a black operations campaign to discredit opposing bids.
The Sunday Times claims to have obtained leaked documents that suggest Qatar engaged a public relations firm and former CIA officials to produce damaging propaganda about Australia and the United State's World Cup bids.
A number of emails examined in the report suggests journalists, bloggers and other influential figures were recruited to create the illusion that both bids didn't have strong support on their own soil - a key FIFA criteria.
One particular leaked email in 2010 from Michael Holtzman, president of a communications company based in New York, outlines the nature of the campaign with Australian students seemingly used as part of the operation.
"For the past four months we have undertaken an extensive campaign to undermine the 2018/2022 candidacies of competitor countries, particularly Australia and the US," the email states.
"We have a group of pro-rugby students in Melbourne, Australia, who will start appearing at rugby matches with signs 'Hands off Our Rugby No to World Cup!' in June."
A recent two-year FIFA investigation relating to potential corruption surrounding Qatar's bid cleared the Gulf state but these latest leaks weren't part of it and are a direct breach of FIFA rules for World Cup bids.
As it stands Qatar will host the 2022 World Cup with the country's climate dictating that the event be held across November and December. 
Australia's costly bid to host the tournament for the first time ended with the nation gaining just one vote, while the US pulled in eight votes to Qatar's 14 in the final round of voting.
In some consolation, North America have been awarded the 2026 World Cup which is set to be split across Canada, Mexico and the US.