AFC U16 Championship
Australia look to improve massively before U17 World Cup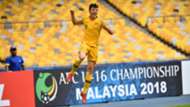 The Joeys started their AFC U16 Championship with a defeat to one Asian powerhouse in South Korea and another in Japan ended their dreams of reaching the final of the competition for the first time after suffering a 3-1 defeat on Thursday.
Trevor Morgan's side did start well against a much-changed Japan side when they got into an early lead through Noah Botic's penalty conversion in the 8th minute of the match. But Japan came back strongly in the match thereafter and Australia just did not have the solution to combat their opponents.
Time and again Australia had to rely on the heroics of goalkeeper Adam Pavlesic to keep them in the match but their defence was eventually breached three times in the second half as Japan displayed their superiority in stamina and creativity.
But all is not lost for Morgan and his team as reaching the semi-final of the competition already meant that they have qualified for the 2019 FIFA U17 World Cup in Peru and with the experience of this tournament behind them, will be seeking to improve in the coming year.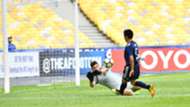 "In the end, Japan deserved the victory. First half we started strong but didn't capitalise more on the chances we created," said Morgan in the post-match press conference. "We struggled to retain possession and Japan came back after that.
"The mistakes were born from fatigue. Japan had sustained pressure at that period of the match. That's where Australian football need to improve. We'll be working on that solidly ahead of the World Cup. For us, the challenge before the World Cup is to be fitter, to be smarter with our decision making and our overall quality. It was a good lesson for us today.
"There are a lot of good things that the boys showed that they can do. The margin for errors at this level is very small. Congratulations to Japan because the level of the team is very high. But I'm very impressed with the boys. We've been together in the last 12 months, maybe 35 days. So today was like a big plant being trimmed off but I'm going to urge them to keep growing."
Overall it has been a decent outing for The Joeys as they came back from the opening day defeat to win three matches on the bounce, including a 2-1 win over defending champions Iraq. In Botic who also scored in the two previous matches, they have someone they can build the team around for future challenges.
Follow Goal Malaysia on Instagram