Asian Cup Qualification
Nazirul not fussed over who starts at left back for Malaysia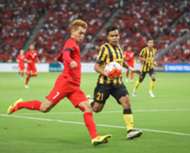 Malaysia faces a battle on their hands as they look to get their Asian Cup qualification back on track in the double header against North Korea. Both matches are to be played at the I-mobile Stadium following postponement of the match that was initially supposed to be played in March.
But the battle isn't only to the opponent on the opposite side of the pitch but also from within the Malaysia camp itself, but from a very positive perspective. This is undoubtedly the strongest side that Eduardo 'Nelo' Vingada has assembled and there's plenty of competition for places in the starting line-up.
One such position would be the left back position where incumbent Nazirul Naim faces the challenge of Fazly Mazlan. The former has been the preferred choice since the first match that Vingada was put in charge but the latter's presence in the squad could very well signal a change.
"This time with the inclusion of different players that the coach has selected, it is good for the squad because it is a healthy competition. What is important now is to focus on North Korea, regardless of who plays. I'm sure we'll be able to perform then."
"For myself, I don't think I did well that night in Hong Kong. We know that it was tough to go a man down in an away gmae and we had to dig deep. But for that game, it was difficult but we did what we could," Nazirul told Goal.
Both has had a comparable season with their respective clubs, proving that they are perhaps the best left backs in the country after a long season with Perak and Johor Darul Ta'zim (JDT) respectively. That said, the likelihood is that JDT players will form the bulk of the team, not least the defence.
With Izham Tarmizi, Fadhli Shas and S. Kunanlan expected to given starts, the same is also expected of Fazly - where the understanding and partnership bred from club level could be vital to the cause. 
Malaysia only got a point from two matches against Hong Kong and with North Korea expected to provide a much stiffer competition, the path towards the Asian Cup finals looked to be an improbable task. But having got the best team that he can call up, Vingada will at least have the right tools to turn things around.