MLS
Armas named Red Bulls coach as Marsch leaves amid rumors of RB Leipzig move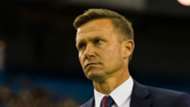 The New York Red Bulls have hired assistant coach Chris Armas as the team's new head coach following the departure of Jesse Marsch, who stepped down to pursue other opportunities, the club announced on Friday.
Marsch's departure comes in the wake of growing reports that he would leave to take a position with Bundesliga side RB Leipzig. German outlet Bild reported on Thursday that Marsch would be joining RB Leipzig's coaching staff, either as interim head coach or as an assistant coach.
Armas' first match in charge will come on Sunday against rival New York City FC, in a match that will also be the first derby played since Patrick Vieira left NYCFC to become the manager of Ligue 1 side OGC Nice.
"We are fully supportive of Jesse and his decision to pursue a new opportunity," said Red Bulls sporting director Denis Hamlett. "Jesse played a large role in establishing our club identity, but the culture here is the result of the dedication and hard work of many. We are confident in Chris Armas. We know Chris and the coaching staff will have our team ready to compete each week, and they will continue to find ways to improve and work towards our ultimate goal of winning MLS Cup."
Marsch leaves the Red Bulls in the middle of his fourth season in charge. During that time, Marsch helped transform the Red Bulls into one of the better teams in MLS. He helped guide the Red Bulls to an MLS Supporters' Shield in 2015, earning MLS coach of the year honors in the process.
This year, Marsch helped lead the Red Bulls to the semifinals of the CONCACAF Champions League, and he leaves with the Red Bulls currently second in MLS in points-per-game and third in total points.
Marsch had been previously linked to a move to Europe, and also within the Red Bulls network. In January of 2017, Marsch was on the verge of a move to Red Bull Salzburg before the move fell apart. Sources told Goal at the time that Marsch's Red Bull Salzburg move failed to materialize due to him not having the necessary coaching licenses.
Marsch wasted no time securing the necessary coaching licenses, finalizing his UEFA A license the following summer. Later in the same year Marsch secured the newly-created U.S. Soccer pro coaching license. He is now expected to take on a coaching role with one of the other teams in the Red Bulls global network, with RB Leipzig looking like his most likely destination.
Armas, who was identified as Marsch's likely successor back when Marsch was on the verge of heading to Red Bull Salzburg, has now been appointed to take charge of the Red Bulls in what will be his first professional head coaching role. A former U.S. national team midfielder and MLS-Cup winning standout with the Chicago Fire, Armas was part of Marsch's coaching staff since Marsch first arrived with the Red Bulls, moving into the team's lead assistant coach role when Denis Hamlett was promoted to sporting director last season.