AGF v Viborg
Amini & Ikonomidis preserve Danish Superliga status with AGF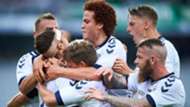 Mustafa Amini helped AGF to preserve their Danish Superliga status with a play-off victory over Viborg.
The Socceroos star, who made his senior international debut in March, was selected from the start in a must-win encounter.
He helped AGF to get off to the best possible start, with Morten Nicolas Rasmussen breaking the deadlock inside 10 minutes.
Mabil & McGrath relegated with Esbjerg
Amini was to pick up a yellow card in the 83rd minute as he looked to see things out, with a 1-0 win enough to keep his side in the top tier.
Chris Ikonomidis played no part in the contest, though, as his loan spell from Lazio comes to a close.
The 22-year-old has enjoyed regular game time this season, but now finds himself due back in Italy and facing another important decision regarding his future.