Gor Mahia
Ambani: Kenya is not ready to host Chan 2018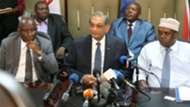 Even after Confededation of African Football gave Kenya hopes of staging Chan 2018, former AFC Leopards striker Boniface Ambani feels the country is still not ready for such a prestigious competition.
Kasarani, Kinoru, Nyayo and Kipchoge Keino Stadia have been selected to host the matches that will be held next January. Ambani however, feels that the country will struggle to make the tournament a success.
Caf: Kenya on course to host 2018 Chan
"I do not think that the country is ready to host this tournament if the conditions of our pitches are anything to go by. We should show our seriousness and our will to renovate these stadia in order to ensure things flow well during the tournament," Ambani told Goal.
He added, "Unless the federation and Ministry of Sports takes the bull by the horns, I think it will be a huge task to have a flawless competition."
On Friday, Caf assured Kenya that they could still stage the tournament should they be ready by November. Caf officials finished their preliminary inspection job in the country's four stadia on Thursday and vice-president Suketu Patel was giving a general remark on the task, whose end-result will determine whether Kenya hosts the continental competition or not.
Gallery: Wanyama celebrates memorable goal at Wembley
"Kenya had won the hosting rights and is only required to put her house in order between now and November. Our inspection team has noted the weaknesses and strengths of the country in terms of preparations and will avail a recommendation report to help you achieve your main objective, which is to host the competition."
His statement comes a day after it emerged that the delegation was not pleased with the conditions of Nyayo National Stadium, Eldoret's Kipchoge Keino Stadium, Machakos' Kenyatta Stadium and Meru's Kinoru Stadium. Ethiopia and Morocco are ready to step in to save the situation if Kenya had failed to convince Caf.