United States
Altidore set to reach 100th cap a well-rounded striker and key U.S. leader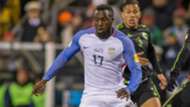 SAN DIEGO — It has been more than nine years since Jozy Altidore experienced his first U.S. national team cap, long enough to forget some of the details of that special milestone. He hasn't forgotten a single bit of it though, even the parts he would like to forget.
Just 17 at the time of his first U.S. appearance, Altidore had much more go wrong than right during that fateful camp in South Africa in November 2007 — misfortune that brings a smile to his face now when he recollects it as a 27-year-old veteran.
"It was probably my worst camp to date in terms of everything that went wrong," Altidore told Goal. "It was my first cap. I checked my cleats in my checked bag, lost my checked bag, it never got to South Africa. I got diarrhea, so I had no cleats and had to go to the mall and buy Copas actually, and played my first cap in Copas from the South African mall, and I still got on the field. So much went into it so I'll never forget it."
Altidore will take the field at Qualcomm Stadium on Sunday for the U.S. team's friendly against Serbia, and will become the 17th American to reach the 100-cap milestone. It is a mark that may have come even sooner if not for injury setbacks that have plagued his career, but Altidore will hit the 100-cap mark in the midst of a high point in his career, fresh off a 2016 that saw him enjoy a long and prosperous run of form that helped him earn U.S. Soccer national player of the year honors.
"It definitely does feel like I've had 100 caps, but in a good way," Altidore said. "Through the ups and downs, whatever it may be, to get here and to be in such good company is a dream come true. I never would have dreamed I'd be joining a legendary group of players. I'm really honored and excited."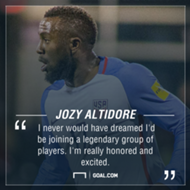 Altidore begins 2017 as one of the clear-cut leaders of the national team, having rebounded very well from the disappointment of missing last summer's Copa America. He hit his stride upon his return from a hamstring injury, helping lead Toronto FC to the MLS Cup final while also helping the U.S. qualify for the final round of CONCACAF World Cup qualifying with some strong performances in September.
As Altidore prepares to play for his third different national team coach, the striker finds a coach he knows well in Bruce Arena, who was also Altidore's boss during his first professional season with the New York Red Bulls. Arena pointed out the irony of being the coach for Altidore's 100th cap almost 10 years after he coached Altidore's first game as a professional. Arena now finds himself coaching a mature and confident Altidore who is going to be very important in Arena's task of trying to lead the U.S. to the 2018 World Cup.
"He's kept his head on his shoulders, and now he's injury free and he's a talented player and very mature person," Arena told Goal. "When Jozy's in form he's an outstanding striker. He holds the ball up great. he's intelligent, he can communicate with teammates on the field."
Altidore's quality has been clear to see in the January camp, as he has settled into his role as the lead striker. This month marks the fourth January camp of Altidore's career, and he was quick to note that this camp wasn't quite like the ones before it.
"The energy is different, there's a new coach, everything is starting over," Altidore said. "You're playing for spots again. Whether or not you've played for the coach before you have to show why you deserve to be one of his go-to choices.
"When I come into January camp it's all about trying to get a head start on the year. It's all about using these days to get fit, and not only get ready for March, but for the (MLS) season coming up."
This time around, the January camp will also help him reach a milestone a younger Jozy Altidore never envisioned reaching, and his 100th cap should be a far easier experience than his first cap.