NPFL
Aliyu Zubairu de-emphasises Akwa United's lacklustre friendly draw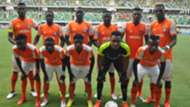 Akwa United's Aliyu Zubairu has downplayed the Promise Keepers poor start to the mid-season tournament ongoing in Uyo where they were held to a 1-1 draw by Ibom Youths on Wednesday.
The Promise Keepers assistant coach disclosed that it was their first real test for over three weeks that they have embarked on a break and that he expects the players to improve in Thursday tie with Akwa Starlets in the continuation of the mid-season tournament at the Uyo Township Stadium.
He said they are not concentrating on the results but are focused on how fast the players have regained match fitness after few days of intensive training leading into the tournament.
"I have to give kudos to the initiator of this wonderful avenue to expose our players to games before the continuation of the league season and we are going to make the best use of it," Zubairu told the media.
"Ordinarily it takes us some time to keep the players in shape for the continuation of the league because most of the players don't keep to the training schedule we gave to them before proceeding on break. We didn't know what they were doing while they were on break. You can see the manifestation while the game was on.
"This tournament is helping us to know where our weaknesses lie ahead of subsequent matches. I want to say that this result can't be used to judge Akwa United because we are just coming back from a long break that has affected our plan for the team. We will try to improve against Akwa Starlets."
Zubairu faulted the decision to embark on the World Cup break as it coincided with the period they were doing well in the league but stressed that they were in a race against time to replicate the feat in their away duel with Kwara United on July 18.
"We were among the teams that were not happy with the World Cup break we embarked on," Zubairu further added.
"If we had continued from where we stopped after playing against Yobe Desert Stars in Damaturu which we won we would have been talking about something different. It was unfortunate that the league had to go on break but no problem we have returned from the break and we are hoping that this competition will help us to recover quickly.
"Our dream and aspiration for the league is still very much there and we are going to make sure that our next match against Kwara United in Ilorin we go all out for the three points to make sure that we have more stability in the league table. If you look at the way Akwa United operate, we do so on teamwork and not an individual. We are building the philosophy on anybody that is called upon."