Arsenal v Bayern München
Alexis Sanchez 'very concentrated' at Arsenal, says Chile team-mate Vidal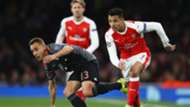 Bayern Munich's Arturo Vidal sees Alexis Sanchez being "very concentrated" at Arsenal, but admits he has not discussed the issue of Sanchez's future with his international team-mate.
The Gunners forward has seen his future at Emirates Stadium called into question on a regular basis in recent months.
WATCH: Alexis laughs at drubbing
He was already generating plenty of transfer talk before being dropped to the bench for a Premier League clash with Liverpool.
Arsene Wenger returned the Chilean to his starting XI for a Champions League meeting with Bayern on Tuesday, but found little inspiration as Arsenal slipped to another 5-1 defeat at the hands of the German giants.
Afterwards, Vidal – who netted twice in the European encounter – was quizzed about the plans of his fellow Chilean.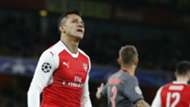 The Bayern midfielder told reporters: "I don't know. I have a lot on my plate with Bayern and with my family, that doesn't give me much time to think about Alexis.
"I haven't spoken to him because he is very concentrated here, in the national team we will speak but we don't have much communication at the moment."
Horror show spells the end for Wenger
Bayern are among those to have been linked with Alexis, who is yet to extend a contract at Arsenal that is due to expire in 2018.
For now, though, the German champions are focused on the present and the pursuit of a potential treble – with Carlo Ancelotti's team fearing no-one as they continue to dominate at home and abroad.
Vidal added: "I'm happy, I had the chance and I was able to put it away but that's not the most important thing, the most important thing is we are playing better every game and scoring lots of goals, that gives us a lot of confidence.
"At the moment we do not care which opponent we get, we have to keep moving forward."
Bayern are thriving under the guidance of their Italian coach, who has been successful wherever he has been, but Vidal is reluctant to draw comparisons between Ancelotti and his predecessor Pep Guardiola.
"We had a change of coach, every change is tough but we are now better connected, the team knows what it has to do. We are taking advantage of that and winning games," he said.
"They are different coaches but last year we did very well too, we were unlucky in the semi-final but this year we are hoping for better luck."