League Cup
Al Ahli boss Cosmin Olăroiu pleased with his players following Arabian Gulf Cup win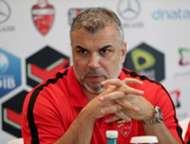 A Makhete Diop brace helped Al Ahli secure the United Arab Emirates League Cup title on Saturday following a 2-0 win over Al Shabab.
In the aftermath of the match, the UAE outfit's boss Cosmin Olaroiu was beaming and praised his players for their display. Some of them were away on international duty, playing for UAE in their defeat against Australia after which Mahdi Ali announced his resignation from the national team.
The likes of Ahmed Khalil, Ismail Al Hammadi, Khamis Ismail, Habib Fardan, Abdelaziz Sanqour, Abdulaziz Haikal, Walid Abbas and Majed Naser had to be flown in immediately to join the squad for the final.
"I thank the players for their great effort," he said.
"It's never easy to come from a distance of 15 hours of Australia and play in just two days and appear in this form in the final so thanks to all," the Romanian added.
"We controlled the match from the start, and the players in the second half dominated even more heavily."
Al Ahli play their next match in the Arabian Gulf League against Al Wasl on Thursday at 2045 GST.